313. Surface energy-assisted patterning of vapor deposited all-inorganic perovskite arrays for wearable optoelectronics, Zhangsheng Xu, Xun Han*, Xiaojun Pan, Wenqiang Wu, Hui Lu, Qiuchun Lu, Yegang Liang, Zeping He, Yizhi Zhu, Yang Yu, Caofeng Pan*, Advanced Materials, under review.

312. Highly Transparent Ultrahigh- Molecular-Weight Polyethylene/MXene Films with Efficient UV Absorption for Light Conversion and Energy Savings, Xianhu Liu, Xin Zhang, Zhengui Zhou, Wenrui Zhang, Chunfeng Wang, Yamin Pan*, Bin Hu*, Chuntai Liu*, Caofeng Pan*, Changyu Shen, Nature Communications, 2022, in revision
311. High anti-jamming flexible capacitive pressure sensor based on core-shell structured AgNWs@TiO2, Renhou Han, Yue Liu, Yepei Mo, Huichen Xu, Rongrong Bao,* and Caofeng Pan*, Advanced Functional Materials, accepted.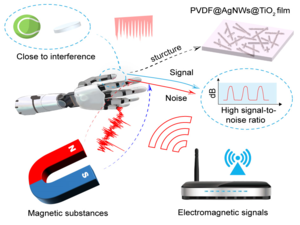 310. Effect of crystal structure of anodic metal on morphology of porous metal oxides prepared by anodic oxidation, Sun, Xidi; Zhao, Chengyan; Zhang, Jia-Han; Sun, Huiyuan; Shi, Yi; Pan, Lijia; Pan, Caofeng, CEJ,2023 submitted
309. Layered perovskite KLaNb2O7: Ho3+/Yb3+ upconversion luminescence and application in low-temperature optical temperature sensor, Yuan Xue, Guocheng Lv* Ke Su, Nanbo Lin, Xun Han, Yegang Liang, Guowu Li, Libing Liao, Lefu Mei, and Caofeng Pan *, Journal of Materials Chemistry A, 2022, under review.
308.Recent progress in dynamically modulating lasing mode, Junfeng Lu,* Yiyao Peng, Wenda Ma, Zheng Yang, Caofeng Pan,* Zhong Lin Wang*, Advanced Materials, 2022, under review.
307. Schottky interfacial polarization induced pyroelectric and piezoelectric effect for self-powered photodetector based on perovskite single crystal with central symmetry, Linjuan Guo#, Huan Wang#, Xiaoli Li, Ridong Cong, Kai Zhang, Linjie Gao, Shufang Wang*, Caofeng Pan*, Zheng Yang *, Advanced Funcitonal Materials, 2023, accepted.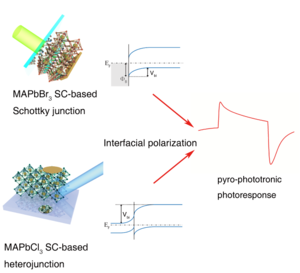 306. A Self-Powered UV Photodetector with Ultrahigh Responsivity based on Two-Dimensional Perovskite Ferroelectric Films with Mixed Spacer Cations, Linjuan Guo+, Yaqian Qi+, Zihao Wu+, Guoying Yan, Ridong Cong, Lei Zhao, Wei Zhang, Shufang Wang*, Caofeng Pan*, Zheng Yang*, Advanced Materials, 2023, accepted.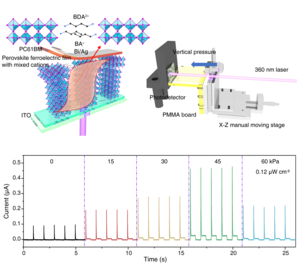 305. Regulated polarization degree of upconversion luminescence based on the number of photons and multiple anti-counterfeit applications, Dongping Wen, Yi Liang, Xiaoming Mo, Caofeng Pan* and Ping Chen*, Rare Metals, 2023, accepted.
304. Degradation of electrical performance of different layers Tungsten Selenide transistors , Bensong Wan, Wenkai Yang, Qin Zhang, Xiangyu Liu, Zhifu Tan, Zhengchun Peng*,Caofeng Pan*, 2022, in revision.
303. Facile design of multifunctional melamine Foam with Ni-anchored reduced graphene oxide/MXene as highly efficient microwave absorber, Haoran Cheng, Yamin Pan, Wei Li, Chuntai Liu, Changyu Shen, Xianhu Liu, and Caofeng Pan, Nano Today, 20223, 52, 101958. [PDF全文]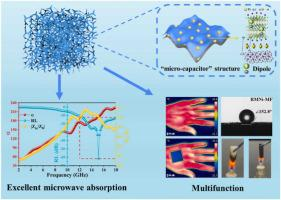 302. Transparent Polymer Composite Metafilm with Invisible Light and Radiative Cooling Regulation for Reducing Windows Energy Consumption, Xianhu Liu# Wenrui Zhang#, Xin Zhang, Bin Hu, Yamin Pan*, Chuntai Liu*, Caofeng Pan*, Changyu Shen
301. Halide perovskite-based tribovoltaic effects for self-powered sensors, Yinghui Wu, Longbiao Huang*, Caofeng Pan*, Science Bulletin, 2023, online. [PDF全文]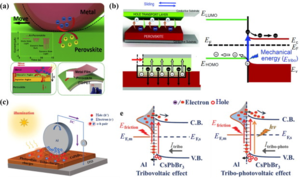 300. Biomimetic Ion Channel Regulation for Temperature-Pressure Decoupled Tactile Perception, Naiwei Gao, Jiaoya Huang, Zhiwu Chen, Yegang Liang, Li Zhang, Zhengchun Peng*, Caofeng Pan*, 2022, Small, accepted.
299. Flexible Stretchable Tribo-Negative Films with Exceptional Output Performance for High-Temperature Energy Harvesting and Self-Powered Sensors, Yangjiu Zhao#, Shaowei Shen# Ruirui Cao*, Haoyi Wu, Xin Li, Haoran Yu, Weifeng Zhang, Caofeng Pan*, Nano Energy, 2023, 114, 108654. [PDF全文]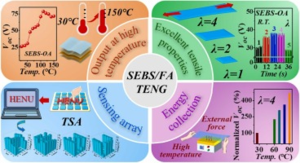 298. Triboelectric Nanogenerator with Dynamic Electrode for Wearable Gesture Monitoring and Falling-alert System, Qitao Zhou, Shujun Deng, Kang Zhou, Jing Pan, Caofeng Pan*, Guowen Meng*, Fan Xia*, 2023, under review.
297. Tough bonding of heterogeneous soft materials for multi-performance optimized resilient strain sensor, Jiaoya Huang, Jiang He*, Zemin Li, Runhui Zhou, Ziyu Chen, Xin Song, Xiaoming Mo, Wenchao Gao*, and Caofeng Pan*, Nature Communication, 2022, under review.
296. Artificial visual-tactile perception array for enhanced memory and neuromorphic computations, Jiaqi He, Ruilai Wei, Shuaipeng Ge, Wenqiang Wu, Jianchao Guo, Juan Tao, Ru Wang, Chunfeng Wang*, Caofeng Pan* 2023, Infomat, accepted.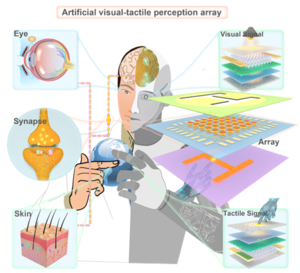 295.High-resolution spatial mapping of pressure distribution by a flexible and piezotronics transistor array, Li Zhang, Yepei Mo, Wenda Ma, Ru Wang, Yixin Wan, Rongrong Bao*, Caofeng Pan*, ACS Applied Electronic Materials, 2023, accepted. [PDF全文]